Case Studies
222
Brookfield Properties
(formerly Forest City Washington)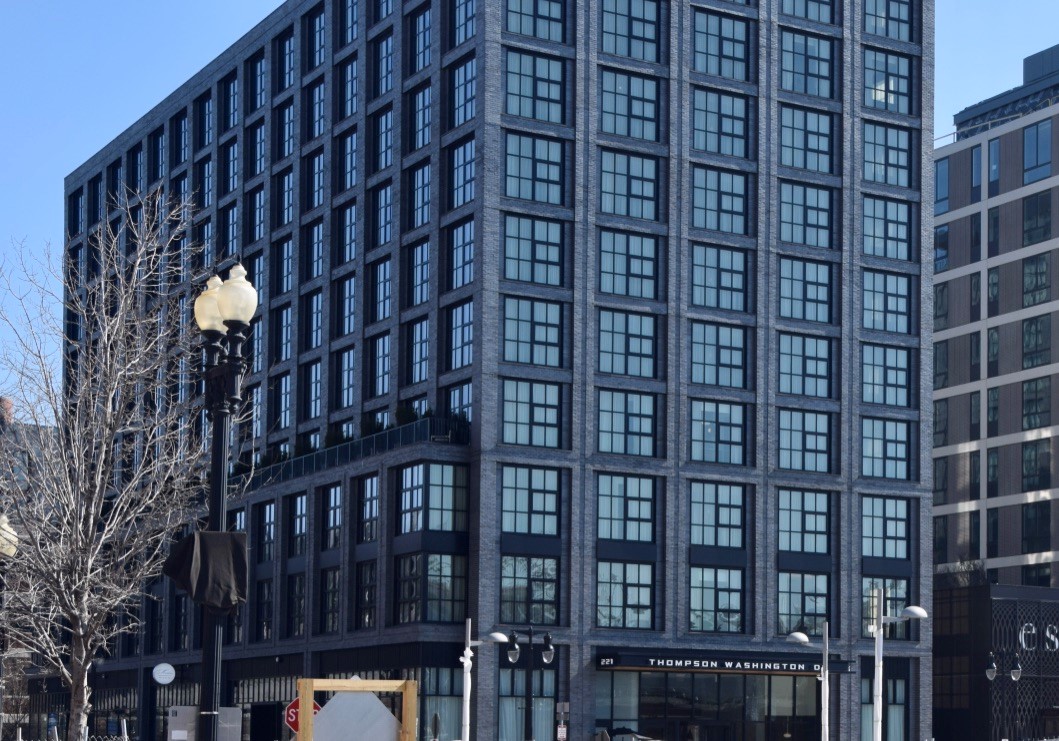 Demand-Side Results
Brookfield Properties (formerly Forest City Washington) requested Unique Staffing's workforce intermediary support in staffing the upscale Thompson Hotel and the Maialino Mare in Washington, D.C. The hotel is located in the same development (The Yards) that Unique supported in staffing the Harris Teeter Store in 2014. Brookfield wanted to show residents of the District of Columbia that the redevelopment projects would "build a bridge" to not only bring employment opportunities, but also opportunities for small or disadvantaged local businesses.
The Thompson Hotel reported that 16 of 49 hires were District residents. That represents 31% of the total hired at the hotel. The Maialino Mare restaurant in the Thompson Hotel indicated that 105 of 221 hired were District residents. That represented 47%.  Averaging the two together resulted in 44%. The restaurant reported an average income of $23.02 per hour which when annualized represents $45,119 in income. Totaling all salaries yielded $4,737,516 in annualized income. Unique projects that District government will received approximately $236,875 in income tax revenue.
---
Seed to Oaks

Demand-Side Results

Seed to Oaks (STO) is a not for profit created by Sojourn Community Church which has a campus located in the Shelby Park neighborhood of Louisville. STO determined that a workforce intermediary supported its vision of connecting the Body of Christ and residents of Shelby Park to employment opportunities. Unique Staffing was engaged to develop the workforce intermediary needed to realize the vision. The primary vision developed was to improve access of the Body of Christ and residents of Shelby Park to business partners who need workers. Nehemiah second chapter and First Corinthians twelfth chapter served as providing the biblical guidance for this initiative.

Seed to Oak's Workforce Intermediary (STO WI) "built a bridge" that better connected the Body of Christ and Shelby Park residents to employment opportunities offered by Seed to Oaks business partners. It assessed the capacity of the local church as well as community and faith-based organizations  (CBO/FBO) to recruit, train and retain candidates for these business partners. In addition, the STO WI assessed business partners staffing needs and reviewed its commitment to hire and retain. Preliminary results for the first 9 months of engagement yielded the following results:

30 to date placed in employment with "potential" annual income being $600K@$10/hour average
$123,870 created in cost per hire savings
$52,800 developed in "potential" work opportunity tax credits
80% six month's employment retention

These early results are encouraging and indicate that the church can become a major player in workforce development.
---
Forest City Washington

Return on Investment

309 placed in employment
$787,641 Cost per hire savings for retail employers (Harris Teeter, etc.)
83% Six month retention
$741,600 "Potential" Work Opportunity Tax Credits
$7,323,300 Projected Annual Income for District
$439,398 Additional Tax Revenue to District
1% Reduction in District Unemployment

Demand-Side Results

Forest City Washington (FCW), a major, world-wide real estate developer, determined that a workforce intermediary supported its vision of developing 1212/Parcel D of The Yards project in Southeast Washington, DC. 1212/Parcel D is an area once used by the US Department of the Navy that is targeted for housing and commercial development. The intermediary's purpose is to align employee preparation and training of local residents to employer needs of the newly developed businesses, thereby creating the optimal connection between the demand and supply sides of the world of work. Unique Staffing (A Workforce Intermediary) became the subject matter expert and project manager consultant contracted to develop a workforce intermediary that would build a bridge to employment opportunities. Unique developed a three-phase approach that included planning and designing a workforce intermediary; organizing and constructing community and business partnerships; and delivering and retaining fully qualified employees to retail businesses. "John Fleming and Unique Staffing played an invaluable role in creating and implementing our workforce intermediary that permitted us to exceed our social inclusion goals," according to Andre Banks, Director of Social Inclusion for Forest City Washington.
---
Churchill Downs

Demand-Side Results

Churchill Downs, the home of the Kentucky Derby and the "greatest two minutes in sports," asked the Louisville Community Initiative (LCI) to assist in improving its focus on local community involvement as well as diversity and inclusion. LCI found and delivered Kenneth "Kenny" Gray who is Director of Community Relations at Churchill Downs. Kenny is a native of Louisville. He attended the University of Louisville and graduated from the West End School which is a middle school boarding school for African American males. That early involvement along with his strong local network made Kenny the ideal candidate for guiding Churchill in improving its  local community engagement.
---
Department of Defense

Demand-Side Results

The Joint Personal Effects Depot (JPED) is the only organization of its kind in the Department of Defense (DoD) that provides the care and handling of personal effects of Service Members from all branches, as well as Department of Defense civilians and contractors that are killed or wounded during theater operations. Unique Staffing is a member of the team that provides these special and sensitive services. "We are proud of being able to support our troops and their families during one of the most challenging times in their lives," said John Fleming.
---
Wellcare

Demand-Side Results

WellCare, a major provider of Medicare and Medicaid healthcare products, made the decision to enter the Kentucky market and asked the Louisville Community Initiative (A Workforce Intermediary) to support its entry. "We needed an experienced community-based organization that understood our markets and had the ability to assist us in developing centers of influence," said Jesse Thomas, Regional President of WellCare. "In addition, we needed assistance in developing a 'bottom-up' marketing strategy since we were limited in understanding of what works in Kentucky." The Louisville Community Initiative (LCI) fulfilled the need and developed Regional Community Advisory Committees (RCAC) that consisted of Medicare and Medicaid membership, physician providers, local hospitals, community and faith-based organizations in Louisville, Lexington, Bowling Green. LCI also connected WellCare to key centers of influence at the University of Louisville's School to Social Work (Kent School) and assisted them in recruiting graduate students to work opportunities and developing a data base of state-wide internships and practicums in nursing, social work and public health. The work of LCI and John Fleming resulted in the awarding of WellCare's first CommUnity Award.
---
Fannie Mae/PNC Bank

Demand-Side Results

The Fannie Mae Foundation engaged the services of The Louisville Community Initiative (LCI)-a Workforce Intermediary-to explore the development of a workforce intermediary for the District of Columbia. LCI was asked to define employment needs in the District including skill sets and competencies for key entry-level positions in the construction, healthcare, hospitality, banking, and finance industries. Its was also asked to consult and meet with representatives from private industry, public schools, D.C. Chamber of Commerce, community and faith-based organizations, literacy and workforce providers and other key stakeholders for the District, including, but not limited to, representatives from the State Education Office, DCPS, State Education Agency, D.C. Appleseed, D.C. Chamber of Commerce, Anacostia Waterfront Corporation, PNC Bank, and AARP to explore the need for a workforce intermediary. This work led to the development of a series of pilots where LCI brought together 5 community-based organizations (Carlos Rosario, Academy of Hope, Covenant House, Latin American Youth Center and Columbia Lighthouse for the Blind) and PNC Bank of Greater Washington, D.C. The pilot resulted in 29 candidates successfully completed the course with 18 being hired by PNC Bank as Customer Service Representatives at branch banks or it's call center. PNC experienced 70% retention in subsequent follow up.
---
Dollar General

Demand-Side Results

The Louisville Community Initiative (A Workforce Intermediary), partnering with Dollar General Corporation, created the Smoketown Dollar General Learning Center and Retail Store. This partnership was designed to equip local residents in a low-income neighbourhood with the tools needed to be self-sufficient. Participants in the Learning Center's internship program spent 20 hours per week for 12 weeks working at the Dollar General store and 20 hours per week in skill development classes to improve reading, writing, math and computer literacy at Jefferson Community College. At the end of the 12 weeks, graduates were provided full-time employment with LCI business partners. During a two-year period, 78 youth and adults successfully completed the initiative and connected to career opportunities. Forty-six (46) found full-time employment at Dollar General with 12 of those hires being promoted to management. Dollar General had the added bonus of having the Smoketown Dollar General being it's #1 store in sales regionally; it's cost per hire savings exceeding $101,000; it's first-year retention achieving 70%; it's management search fee savings exceeding $54,000; it's inventory control or "shrink" being kept at 3%; and it's partnership with LCI being nominated for Employer of the Year by Louisville Workforce Investment Board.
---
Jefferson County Public Schools

Supply-Side Results

LCI developed industry sector consortia (workforce intermediaries) for Jefferson County Public Schools. Each industry consortium consisted of 12 high schools, one or more businesses, Chamber of Commerce, representatives of school-to-career staff, community-based organizations and an LCI business liaison. The function of these business consortia was to identify barriers to opportunities and build bridges that benefit the youth and adults, the school, the employer, and the community. By learning the business culture, cycle and skill sets necessary for success by industry, LCI was able to match participants to employer needs. Our industry consortia and programs were in information technology, healthcare, banking and finance, building trades and engineering and automotive. Four Hundred ninety one (491) were placed in employment.
---
Teenage Parent Program

Supply-Side Results

LCI developed a workforce intermediary by coordinating and partnering with South Park and Westport Teenage Parent Program, Jefferson Community College (JCC), Louisville Education and Employment (LEEP), Bridgeman Foods, Humana, Jewish Hospital, Metropolitan Sewer District (MSD), PNC Bank and Community Charter (transportation company) to have teen mothers during their senior year take a community college course in work readiness and intern three hours a day for five days a week for their senior year. During this 4 year partnership grades improves, attendance improved and their view of the world as measured by the Locus of Control assessment tool. This initiative permitted LCI to measure the impact LCI participants have on employer partners in determining a company's cost per hire. This process is one where employers calculate their direct hiring costs (advertising, internal referral bonuses, open houses, etc.) and divide that number by the number of persons hired for the time period. Multiplying the cost per hire by the number we connect to employers determines a return on investment (ROI). Below is what was accomplished during the work with TAPP:
| | | | | | |
| --- | --- | --- | --- | --- | --- |
| | 1st Year  | 2nd Year  | 3rd Year  | Total  | ROI |
|  Employer Savings |  $108,000 |  $163,000 | $171,000 | $442,000 |     125% |
|  Employer Investment (donations) |  $60,000 | $51,900 | $84,750 | $196,650 | |